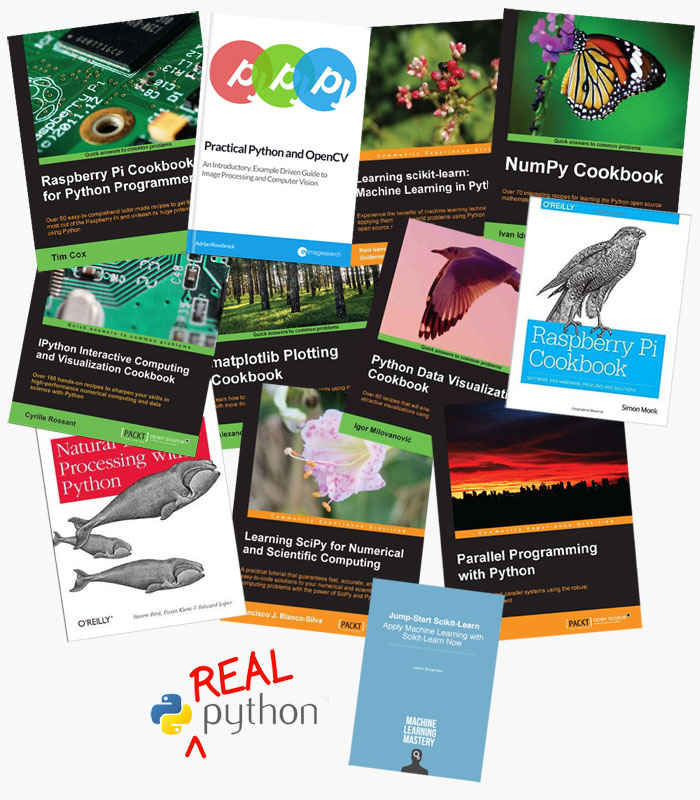 Earlier this year I posted about the top 7 Python books of 2014 (thus far).
Now, I'm taking it to the next level.
I'm taking some of my favorites from this list. Others from my own personal library. And I'm bundling them together — and giving them away FOR FREE.
If you're interested in computer vision, machine learning, IPython, Raspberry Pi, Natural Language Processing, or even parallel computing, I absolutely guarantee that there is a book in this giveaway for you.
This bundle is valued at well over $300. So this is the real deal.
Click here to enter the giveaway. And be sure to share your lucky URL! The more times you share, the better your chances are of winning!
I'm giving away the 13 BEST Python books for Scientific Developers & Programmers
This contest is only for subscribers to my PyImageSearch Newsletter.
Are you going to spam me?
No, I promise not to spam you. And I won't share your email address with anyone.
You'll get access to my free PyImageSearch Newsletter which includes computer vision and machine learning tips, tricks, and hacks that I've stumbled across after 8 years of working in the field. These are actionable tips and tricks that I utilize to solve real-world computer vision and machine learning problems. Whether you are just a hobbyist or a full-fledged scientist or engineer, I guarantee that you'll find content in this newsletter that you can take straight to the bank.
You'll receive 1-3 emails per week from me. You can unsubscribe at any time (but definitely stick around for at least a few emails!)
I also send occasional updates and announcements related to the projects that I'm working on, such as Practical Python and OpenCV.
What books are you giving away?
I'm giving away 13 of the best Python books for scientific developers and programmers. Whether you're interested in computer vision, machine learning, natural language processing, or Raspberry Pi, there is something in here for you.
Here is the full listing of the books included in the prize package:
How do I increase my chances of winning?
First, head over to the giveaway page and enter your email address. Then, grab your lucky URL and start sharing! Share it to your Facebook, your Twitter, your Tumblr, your LinkedIn! Post it wherever you can! The more people who signup using your lucky URL, the more chances you have to win!
I already own one (or more) of these books!
No problem at all! I'll reimburse you for the current value of the book(s) if you win.
Are you giving away the printed or digital versions of the books?
Some books are only available as digital. For all books that are not digital only, you can choose!
I am already on the PyImageSearch Newsletter.
Awesome! Then I'm sure that you already know (and can attest to) how awesome the PyImageSearch Newsletter is! But in order to be eligible for the contest, you still need to head over to this page and enter your email address. And be sure to spread your lucky URL!
When will you announce the winner?
I will announce the winner in the October 13th, 2014 edition of the PyImageSearch newsletter.
What is the deadline for entering?
I will cutoff submissions by midnight Easter Time (US & Canada) on October 4th, 2014.
Join the PyImageSearch Newsletter and Grab My FREE 17-page Resource Guide PDF
Enter your email address below to join the PyImageSearch Newsletter and download my FREE 17-page Resource Guide PDF on Computer Vision, OpenCV, and Deep Learning.