PyImageSearch University: You can master Computer Vision, Deep Learning, and OpenCV
I strongly believe that if you had the right teacher you could master computer vision and deep learning.
Do you think learning computer vision and deep learning has to be time-consuming, overwhelming, and complicated? Or has to involve complex mathematics and equations? Or requires a degree in computer science?
That's not the case.
All you need to master computer vision and deep learning is for someone to explain things to you in simple, intuitive terms. And that's exactly what I do. My mission is to change education and how complex Artificial Intelligence topics are taught.
Welcome to PyImageSearch University, the most comprehensive computer vision, deep learning, and OpenCV course online today. Here you'll learn how to successfully and confidently apply computer vision to your work, research, and projects. Join me in computer vision mastery.
Created by: Adrian Rosebrock, PhD • Last updated: 6/2021 • Languages: English
What you'll learn
Principles of computer vision and image processing
Fundamentals of the OpenCV library
Deep learning
Face detection
How to apply facial landmark detection
Face recognition
Adverserial image attacks
How to defend against adverserial attacks
Object detection
Plus, new classes added every month!
Requirements
In order to be successful in PyImageSearch University, you need the following:
Understanding of Python basics
Internet connection
Windows, macOS, Linux, or Raspbian (all major operating systems supported)
Free Gmail/Google account to run pre-configured Jupyter Notebooks in Colab (optional)
A desire to learn
Course description
PyImageSearch University is a comprehensive set of self-paced courses for developers, students, and researchers who are ready to master computer vision, deep learning, and OpenCV. Inside this course you'll learn how to successfully and confidently apply computer vision to your work, research, and projects.
Unlike other online courses, which are created once and never updated, leaving you with stale, out-of-date information, I keep PyImageSearch University up-to-date by releasing a brand new class every month!
Releasing a new class every month ensures you can keep up with the state-of-the-art in computer vision and deep learning, learn new algorithms and techniques, and:
Successfully complete your projects at work
Perform novel research (and publish papers)
Finish your final graduation project for school
Launch your next company in the Artificial Intelligence space
To help you accomplish these goals, in each lesson I provide:
Detailed video tutorials for every lesson
High-quality, well documented source code with line-by-line explanations (ensuring you know exactly what the code is doing)
Jupyter Notebooks that are pre-configured to run in Google Colab with a single click
Support for all major operating systems (Windows, macOS, Linux, and Raspbian)
PyImageSearch University is without a doubt the most complete, comprehensive computer vision education online inside. I'll see you inside.
Adrian Rosebrock
CEO, PyImageSearch.com
Trusted by members of top artificial intelligence companies, schools, and organizations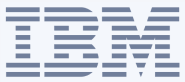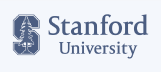 Who this course is for:
If any of these descriptions fit you, rest assured, PyImageSearch University is designed for you.
You are a computer vision practitioner that utilizes deep learning and OpenCV at your day job, and you're eager to level-up your skills.
You're a developer who wants to learn computer vision/deep learning, complete your challenging project at work, and stand out from your coworkers (and land that big promotion).
You are a college student who needs help with your homework, completing your final graduation project, or you simply want more than what your university offers.
You are a researcher or scientist looking to apply computer vision and deep learning techniques to your research (and publish a paper).
You have experience with machine learning and want to learn more about deep learning and neural networks.
You are an entrepreneur studying computer vision/deep learning so you can launch your next business in the Artificial Intelligence space.
You are a "computer vision hobbyist" who wants to successfully complete that project you are hacking on over nights and weekends.
You're a PyImageSearch reader that wants access to centralized repos containing high-quality, well documented source code, pre-trained models, image datasets, etc. for all 400+ tutorials on PyImageSearch.com.
You prefer running code examples with Jupyter Notebooks in Google Colab — my notebooks are pre-configured and ready to run in Google Colab with only a single click.
You want to skip the painful process of configuring your development environment — no more headaches and wasted time spent configuring your development environment, run all code examples in your web browser!
You learn best through video tutorials — PyImageSearch University includes video guides for every single lesson.
20 Certificates of Completion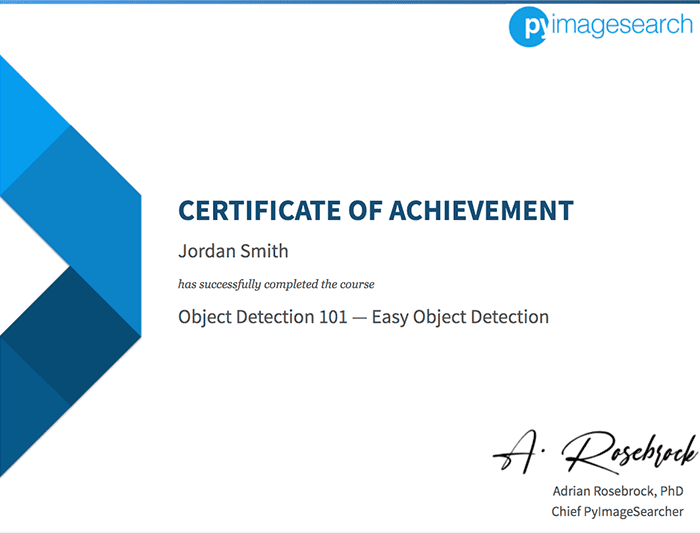 We don't offer just one Certificate of Completion like most online courses. Instead, we offer a certificate for each of the 20 courses inside PyImageSearch University.
And since a brand new course is released every month, that means each month you receive…
A brand new course
A new set of lessons
A new set of quizzes
A new final exam
And another opportunity to demonstrate your computer vision and deep learning knowledge to the world
PyImageSearch graduates have gone on to:
PyImageSearch University is your chance to join them in computer vision and deep learning mastery.
PyImageSearch University syllabus
20 Courses • 99 Classes • 32h 10m 11s Lectures
PyImageSearch University is really the best Computer Visions "Masters" Degree that I wish I had when starting out. Being able to access all of Adrian's tutorials in a single indexed page and being able to start playing around with the code without going through the nightmare of setting up everything is just amazing. 10/10 would recommend.
Not going to kid you: PyImageSearch University is worth every cent. I get asked ALL the time at my talks how I got started. PyImageSearch was the foundation.
This is a fantastic, unique resource. Where else can you get such brilliant tuition in such a wide variety of computer vision topics for such a low monthly cost? Nowhere is the answer. Highly recommended.
At the age of 58, learning ML, Computer Vision and Python all in parallel with no prior programming background was a steep learning curve and without PyImageSearch this could not have been possible. PyImageSearch brought it all nicely together.
When I first undertook my current ongoing robotics project my goals were very modest. Then I discovered PyImageSearch and found that I could go light-years beyond what I thought myself capable of back then. Through Adrian's detailed and easy-to-follow tutorials, I have achieved functionality goals I wouldn't have dared dream of before. My understanding and implementation of Python, along with a number of computer vision and machine learning concepts puts me on a par with some of the best programmers I've worked with. I couldn't have achieved this level of satisfaction without Adrian and his organization, and I am very grateful.
As a CS professor, I scaffold experiences so that my students build confidence, comfort, and enjoyment across all of the "pixel-processing's realm." Adrian's Jupyter/Colab materials are both invaluable -- and far more valuable than their price!
The PyImageSearch tutorials have been the most to the point content I have seen. I have always been able to get straightforward solutions for most of my Computer Vision and Deep Learning problems that I face in my day-to-day work life. Courses like this is what helps people and industries around the world to make quick and efficient solutions to their problems in real time.